BRT
BRT is a transport option, which relies on the use of dedicated 'interference' free segregated lanes to guarantee fast and reliable bus travel. It is a high-performance public transport bus service that aims to combine bus lanes with high-quality bus stations, vehicles, amenities, and branding to achieve the performance and quality of a light rail or metro system, with the flexibility, cost, and simplicity of a bus system.
The BRT buses run on physically segregated lanes and thus make them faster in a situation where there is traffic congestion. It is one of the several options available for tackling the huge public transport predicaments of Lagos.
BRT is a transport option, which relies on the use of dedicated 'interference' free segregated lanes to guarantee fast and reliable bus travel
BRT Route MAP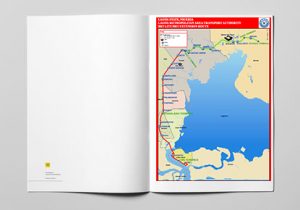 Advantages of a BRT system
It will reduce traffic congestion, improve air quality and meet the mobility needs, particularly of the less privileged and poor masses of the Lagos metropolis.
It is a roadway-based system that looks and behaves like a subway, offering high capacity rapid transit services but on dedicated lanes or city streets.
Guaranty a fast and reliable travel time – When operating in exclusive running ways or dedicated lanes, BRT systems can run at faster speeds than conventional buses in regular traffic and even as fast as light rail. By offering frequent service and avoiding traffic-related delays, BRT systems can provide riders with a more reliable travel time
BRT
Following the socio-economic impacts and success of the Mile 12 – CMS BRT system on the lives of Lagosians, particularly businesses and residents along and within the corridor, there has been clamour for the replication of the system along other corridors in the state. LAMATA has plans to implement the BRT system strategically along eight different corridors within the metropolis.
The Mile 12 – Ikorodu Town BRT Extension has been conceived to extend BRT service from Mile 12 to Ikorodu Town while also improving the Ikorodu road network infrastructure. The existing roadway consists of a 2- lane dual carriageway linking Mile 12 Area to the fast-growing Ikorodu town. It is presently in a deplorable condition with perennial flooding. The Lagos State Government is desirous of this project which includes major civil works and the provision of complimentary BRT infrastructures. The corridor covers a distance of about 13.5km. The width of the existing road is 7.5 meters, with a central median of 2m width. The BRT is designed to be implemented as median running with bilateral bus station configurations linked to pedestrian bridges for pedestrian access. Two new lanes will be constructed to accommodate the new BRT system.
The 22 km Mile 12 – CMS pilot Bus Rapid Transit (BRT) Lite scheme commissioned by His Excellency, Governor Babatunde Raji Fashola on March 17, 2008 is the flagship of LAMATA's bus services reforms and the first example of a comprehensive and integrated approach to improving public transport in sub-Saharan Africa (SSA).
The first phase of the Lagos BRT, which is already running from Mile 12 through Ikorodu Road and Funsho Williams Avenue up to CMS started, runs a 16 – hour operation from 6.00 a.m to 10 p.m. every day. The system uses 220 buses to move more than 200,000 passengers daily. In the last five years of operations, the BRT system has moved more than 400 million passengers.
The overall objective of the Lagos BRT system is 'to improve mobility and transport affordability in the city of Lagos through regulatory reform and facilitation of person movement on major corridors through a combination of traffic management and implementation of a high quality, high-performance bus rapid transit system'.
Public/Private Partnership
The Mile 12-CMS pilot BRT Lite scheme was implemented by PPP whereby LAMATA provided the enabling framework and infrastructure comprising bus depot garage, 3 bus terminals, 65% segregated bus ways, 28 bus shelters, road markings and other traffic management measures while the selected private sector operator (First BRT Cooperative Limited) accepted regulatory enforcement, commitment to the procurement of buses, operations, and maintenance. Ecobank provided financing of N1 billion for the operator to procure initial 100 buses deployed and LASG invested a substantial sum of N4.5b on the BRT infrastructure.
Operations
The operation is guided by a set of regulations approved by the Lagos State House of Assembly (LAHA) and signed into law by the Governor, Mr. Babatunde Raji Fashola. The regulations restrict all yellow buses and other articulated and heavy-duty buses to the service lanes. The BRT Lite scheme currently operates a total number of 220 Ashok Leyland high floor capacity buses along the Mile 12-TBS corridor from 6:00 am-10:00 pm daily. Over 900 bus pilots/bus officers and 57 inspectors/monitoring officers were employed for BRT operations.
Performance
The pilot BRT Lite scheme has performed creditably since operations commenced in March 2008;
Over 400 million passengers has been carried in the last five years
Average daily ridership is 180,000 passengers
Average Load factor of 800 passengers carried per bus daily
Average daily trip per day is 5
Average waiting time is 15 minutes
Average speed is 30km/h
Impact on Users
User opinion of the BRT system is shown to be strongly positive in comparison to alternative modes of transport. Introduction of the Mile 12
-TBS pilot BRT Lite scheme has exceeded expectations. The scheme has impacted on a number of fronts: First, the scheme has exceeded patronage expectations. Average weekday patronage (180,000/day) exceeds planned estimates by 200%.
Second, passengers now enjoy a reduction of 30% in average fares and fare stability, 40% in journey time, 35% in average waiting time and reduction in exposure to robbery on public transport. .
Third, the scheme has attracted increased patronage from sectors that had hitherto shied away from public transport, namely children, car owning middle classes, the elderly and the less able
Fourth, the scheme has created direct employment for over 1,000 people, mostly graduates and indirect employment to over 500,000 people in the state.
Fifth, the scheme has demonstrated the capacity of local operators to run successful public transport operations and has subsequently generated intense interest from local banks and financiers and vehicle suppliers for other planned BRT schemes.
Sixth, it has demonstrated and confirmed the strategic role of public transportation in Lagos to the extent that planned state investment in the sub-sector has risen 50-fold.
Seventh, preliminary figures suggest that the project has helped reduced ambient concentration of pollutants which are dangerous to human health along the corridor.
Creating a list of potential qualified prospects for your service or product can be daunting when you're beginning your business. However, this needs to be considered as a follow up on your Target Market Analysis so you can hit the ground running.