Agbonzegbe Osa Konyeha
Head of the Corporate and Investment Planning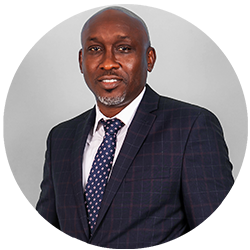 Agbonzegbe Osa Konyeha holds a B.Sc in Civil Engineering from the University of Nigeria, Nsukka, and an M.Sc in Transport Planning from the Imperial College of Science, Technology, and Medicine in the United Kingdom. He has worked in the transport industry for over 20 years and is currently the Technical Adviser and Head of the Corporate and Investment Planning Department of the Lagos Metropolitan Area Transport Authority (LAMATA).
Mr. Konyeha began his career as a transport planner/traffic engineer in Collin Buchanan and Partners in London, United Kingdom, providing expertise in Transport Planning, Traffic Engineering, Traffic Impact Analysis, Environmental impact analysis, Traffic Surveys, and Road safety engineering among others.
In year 2000, he joined the Hyder Consulting, UK as a Senior Transport Planner, where he was responsible for advising the local authorities and private developers of the impact of various transport schemes and policies. Some of the projects executed include Implementation of Local Transport plans such as A406 North Circular Road Environmental and Safety Improvement Scheme and Bond Street Area Highway Rationalization to ease congestion, development of the Bromley Town Centre Area Action Plan model to appraise traffic and transportation interventions assessment of the impact of intelligent transport systems as part of the M25 Integrated Demand Management and development and appraisal of Greenwich Waterfront Transit.
Mr. Konyeha joined the Nigerian Infrastructure Advisory Facility (NIAF), a UK Department for International Development (DFID) funded assistance to Nigeria, in 2012, as the Embedded Transport Adviser to the Transportation Secretariat of the Federal Capital Territory Administration, where he provided support in the setup of the Transport Authority Unit and assisted in the execution of transportation projects including the FCT Rail Mass Transit Project.
Presently, in his role as the Technical Adviser and Head of the Corporate and Investment Planning Department of Lagos Metropolitan Area Transport Authority (LAMATA), Mr. Konyeha supervises six units, namely Investment Planning, Transport Planning and Appraisal, Business Development, Safeguards and Environment, Monitoring and Evaluation and Research and Development.
He leads the planning strategy on the future transport needs of Lagos State, coordinates the implementation of transport schemes, develops major scheme initiatives, and secures investment for the provision of transport infrastructure.
Mr. Konyeha is a certified PRINCE2 Project Manager, a Member of the Chartered Institute of Logistics and Transport UK (CIHT), and a corporate member of the Chartered Institution of Highway and Transportation, UK (MIHT).
contact details
KM 15 Ikorodu Road,
Ketu-Ojota Cloverleaf Interchange, Ketu, Lagos