OLUKEMI AMURE
Acting Head, Bus Systems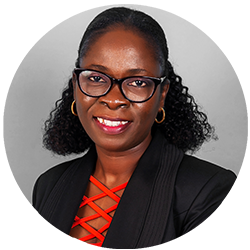 Olukemi Amure holds a PhD in Transport Geography from the University of Lagos.
She earned B.Sc. Geography and Planning from the Lagos State University (2000) and M.Sc. Geography from the University of Ibadan (2004). She joined LAMATA in April 2008 as Transport Specialist to assist in the implementation of system procedures, and quality standards for the overall improvement of Public Transportation systems in Lagos. She was later designated Bus Operation Analyst. In 2014, she became the Franchise Compliance Supervisor to monitor the activities of the Ikorodu –TBS BRT operator. Before her appointment as acting head of the Bus Service Department, she worked as the Bus Service Specialist and Team lead on the execution of the First and Last Mile bus scheme under the bus reform initiative (BRI) in Lagos State.
She has over 15 years of working experience in research and transport industry. She started her career as a Transport Researcher/Field Supervisor with GeoTrans Associate where she was involved in transportation planning, coordination of field surveys, data collection/analysis, training and workshop. .
She is a member of the Chartered Institute of Logistics and Transport, The Chartered Institution of Highways and Transportation, Association of American Geographer and Association of Nigerian Geographer. She has written and published academic papers and also attended various training and conferences both at the local and international levels. Outside current employment she is a volunteer research officer with the Gender Research and Development Centre (GERDEC) as well as shares knowledge as a volunteer lecturer in the Department of Geography, University of Lagos.
contact details
KM 15 Ikorodu Road,
Ketu-Ojota Cloverleaf Interchange, Ketu, Lagos