Engr John Akinola-Martins
Head of Department, Roads & Infrastructure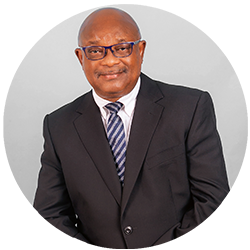 John is a highly skilled individual with over 40 years' experience working in Civils and Structures within the Rail and Highways sector. He is a Chartered Engineer with a BEng degree in Civil Engineering from Greenwich University, Kent, and MSc in Civil Engineering
(Structures) from City University, London. He is a corporate member of the Institution of Civil Engineers London (ICE) and a registered member of the Council of Registered Engineers of Nigeria (COREN). He is also a corporate member of the Nigerian Society of Engineers (MNSE), and the Nigerian Institution of Civil Engineers (MNICE).
John's work experience in the UK and Nigeria spans across London Borough of Ealing,
London, British Rail, London Underground, Kier Highways, and The British Light Railway.
Specific projects include London Underground CONNECT Project, Network Rail Engineering
civil and pathways Project London, Channel Tunnel Rail link Project London, Network Rail
west coast route modernization the UK, Federal Ministry of Works, Urban Development &
Environment, Lagos and Federal Ministry of Works & Housing, Nigeria.
John started his career with the Federal Ministry of Works, Urban Development & Environment, Ikoyi, Lagos, where he was posted to the Federal Capital Territory Abuja
(FCT), as the first Resident Engineer, responsible for the infrastructural facilities, viz, rural electrification, roads & storm water drains, to the Federal Government Low Income Housing Scheme.
John later returned to the UK in 1986 and worked as project engineer with the London Borough of Ealing, and was involved in structural design and assessment of buildings,
highway structures, including overbridges and rail bridges. He later worked with London Underground Limited, and other UK engineering Consultants. He returned to Nigeria in 2008
and had an appointment with Guaranty Trust Bank (GTB) as external Project Manager. At GTB, he was responsible for the provision of full range of Contract Administration services
from pre-contract to post-contract stages. He managed a considerable number of GTB
branches, such as the Obafemi Awolowo University, Alaba Lagos, Computer Village, Ikeja,
Gbagada, Tinubu, Gbagada Expressway and the Ewekoro. He was later appointed as a
senior project manager at Day Waterman College, Abeokuta, responsible for the
construction of the college. He was also responsible for the rehabilitation of Ilawe Igbaraodo
Road, Ekiti, Ekiti State. He had a brief spell as senior Project Manager responsible for the
management of the construction of the expansion of the West Wing to Murtala Muhammed
International Airport, Lagos.
In 2011, he joined Nexant Consulting LLP, Lagos, Nigeria as Head of Engineering,
responsible for consultancy of Lagos Rail Mass Transit (LRMT) Project Blue Line and Lagos
Badagry Expressway Project (LBE).
He returned to the UK in 2015 and held several Structural Engineering Managerial positions
in Kier Services Highways, England, Carillion Structural Asset Management and Somerset
County Council, England.
He returned to Nigeria in December 2019 when he was appointed Technical Adviser & Head
of Department, Roads & Infrastructure by the Lagos Metropolitan Area Transport Authority
(LAMATA). Since joining LAMATA, John has been responsible for the management and
effective supervision of infrastructural facilities to BRT projects. He also ensures that the
routine maintenance of BRT assets are undertaken effectively and efficiently.
contact details
KM 15 Ikorodu Road,
Ketu-Ojota Cloverleaf Interchange, Ketu, Lagos